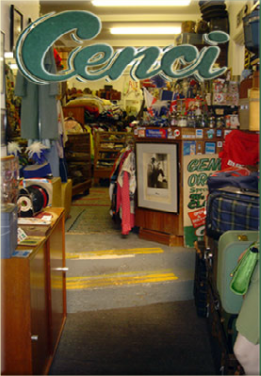 Opening times
Mon – Sat 11am to 6pm
&
The First Sunday
of Every Month
Who Are We?
Cenci is the Vintage clothing and accessories expert in London. We have originals of every shape and form from all periods; Thirties, Forties, Fifties and Sixties.
We also have secondhand Seventies clothing. Come to us to find the coolest used Eighties, Nineties and contemporary Men's, Women's and Children's Clothing and accessories; scarves, ties, bags, purses, gloves, hats, jewelry, and fantastic original gifts. The pressure to create, invent, design and produce the original is enormous.
We take these fabulous originals, then combine and group them together in our own way.
Ours is the most delightful alternative shop Beyond Doubt! Remember, we have thousands of items and will be more than happy to assist you in finding what you need. Just email us your requirements.
Where Are We?
4 Nettlefold Place
London, SE27 0JW
020 8766 8564
Southern overland rail from Victoria to West Norwood (direction Crystal Palace) 6 stops - 18-20 minutes
Southern overland rail from London Bridge to West Norwood (direction Victoria, West Croydon, Beckenham Junction) 20 minutes - Train from Charing Cross to London Bridge - 7 minutes
Bus 2, 196 or 432 from Brixton Tube Station (Victoria Line) 20 minutes direction Crystal Palace Bus 68 from Holborn - 45 minutes